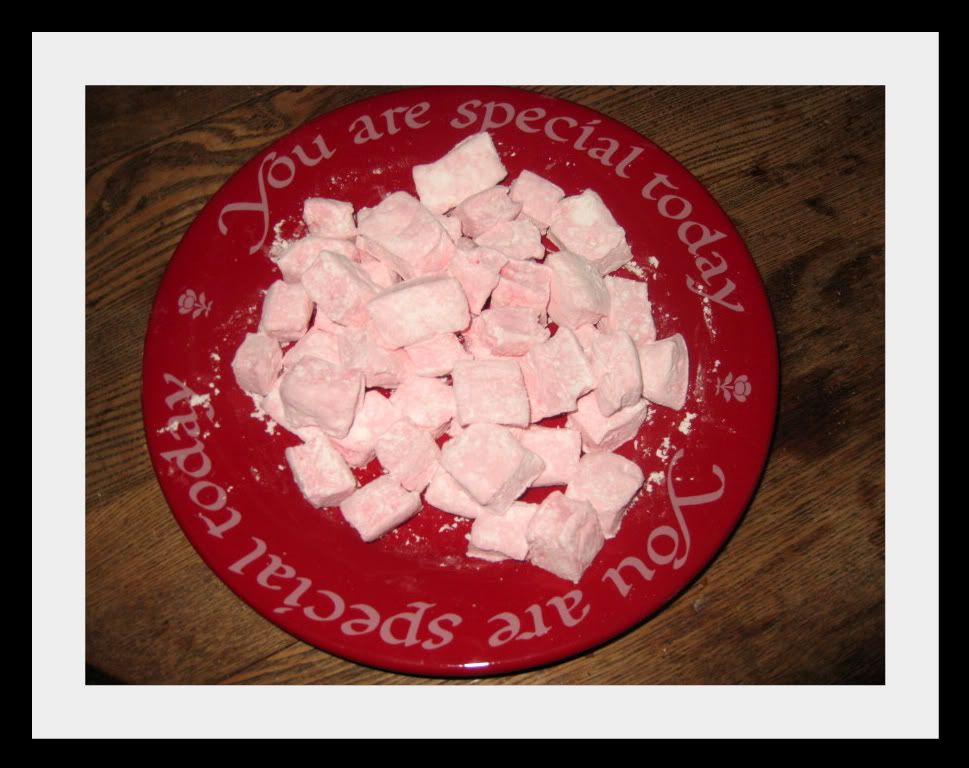 I've made marshmallows a few time and they're always fun! I know. I know. I hear you saying "But Manda, marshmallows are like $1 a bag! Why make your own?". The answer is simple: I can make ANY flavor marshmallow to match the occasion! Yesterday I made some cinnamon marshmallows for my son's preschool Valentine's day party. Unfortunately, they turned out HOT HOT HOT! Too much cinnamon oil, I think! But, that's okay--the adults will like them (think Atomic Fire Ball, hot). Remember Shamrock milkshakes from McDonald's? Imagine green mint marshmallows! What fun! The process is fairly simple--but messy!
Homemade Marshmallows
1/2 cup cold water
3 envelopes ( or about 3 Tablespoons) unflavored gelatin
2/3 cups corn syrup
2 cups granulated sugar
1/4 cup cold water
1/4 teaspoon salt
1 to 3 tablespoons vanilla extract or other flavorings (try other extracts as well--like cinnamon oil or root beer flavoring--you'll have to experiment with strength)
1 cup powdered sugar
1 cup Cornstarch
Powdered sugar
Food colorings (optional)
a stand mixer or a heavy duty handmixer.
9x13 pan
pizza cutter
candy thermometer
First thing you need to do is take one cup of powdered sugar and one cup of cornstarch and mix them together in a big bowl (trust me on this one). Next, prepare a 9x13 casserole dish by spraying it with PAM (I use my
Misto M100S Gourmet Brushed Aluminum Olive Oil Sprayer
) and then coat it with the cornstarch/powdered sugar mix. Do a really good job with this. Next, add 1/2 cup of water and the three envelopes of Knox to your stand mixer (or in a mixing bowl). Let that stand for about 10 minutes. Now, let's get to the stove. In a small pan, add the 2 cups of sugar, 2/3 cup of corn syrup and the 1/4 cup of water and start it boiling. Stir as you go. Put your candy thermometer in and wait until it reaches 117 degrees (soft ball stage). Once you reach that point, add the hot sugar to the mixer bowl and start your stand mixer to HIGH. If you're using a good, heavy duty hand mixer be prepared for the wait. You have to beat the marshmallows for 15 minutes. The first time I made them I burned out my hand mixer doing it! After about 13 minutes, add your flavoring and food coloring if you want.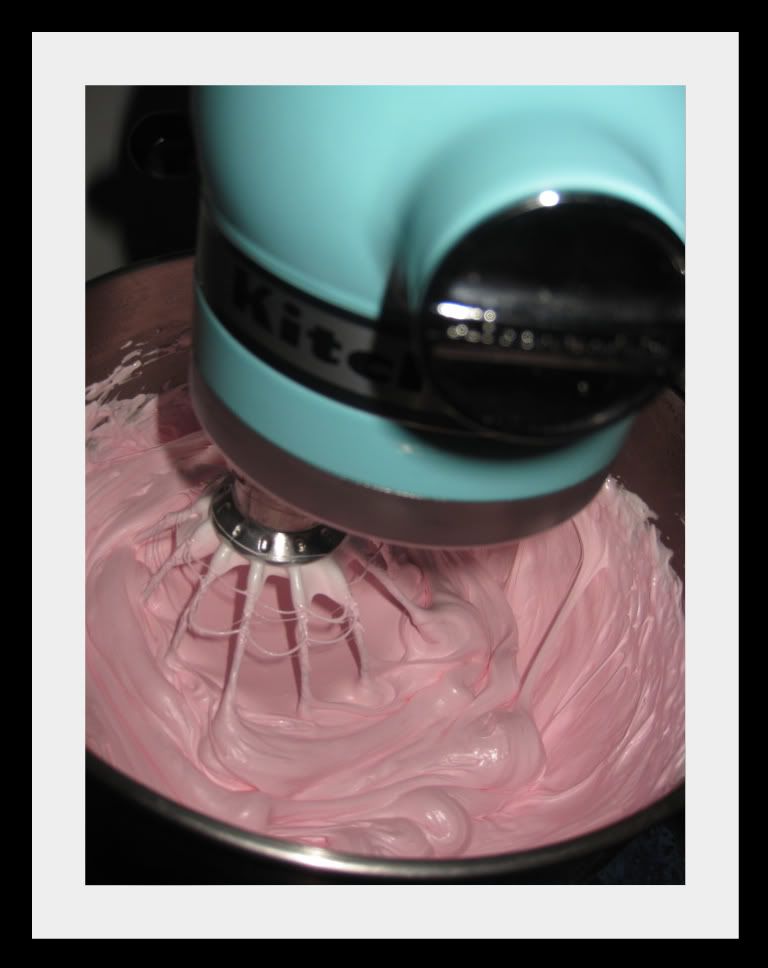 This is MESSY stuff (but a soak in some hot water does the trick). Once the mixing is done, dump it all into your 9x13 pan and, with oiled hands, spread it around to be even. It must sit now for at least 4 hours (I leave it over night). Once it has sat, turn it over and the whole slab should just come out easily on a cutting board. Use a pizza cutter to cut long slices and make small squares of marshmallow. Remember that bowl of cornstarch/sugar? Toss the little squares in there so they're all well coated (so they won't stick to each other). That's it!