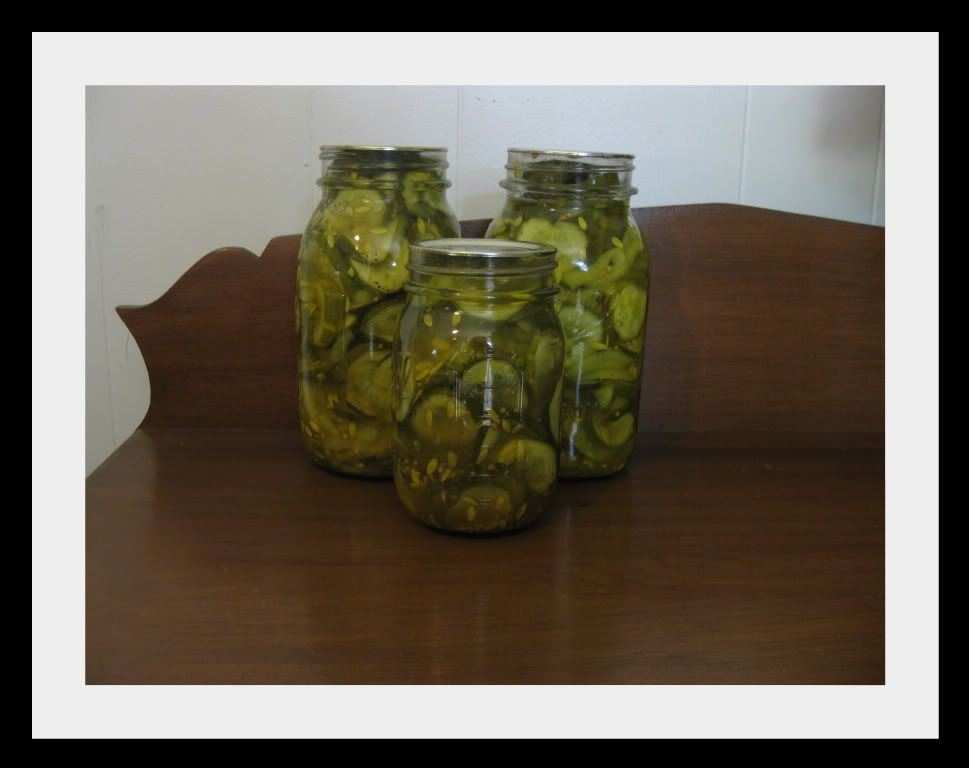 Once again I was faced with a mountain of pickle cucumbers! Waste not, want not! Last night was Bread and Butter pickle night at our house. Here's the recipe I used. This recipe as in can make 3 quarts or 6-7 pints of pickles. I had too many snitches sampling around here!
- 15
cups
sliced pickling cucumbers
- 2 1/2
cups
apple cider vinegar
- 1/2
teaspoon
celery seeds
- 1
tablespoon
mustard seeds
Slice all of the cucumbers thin. Slice the onions into thin rings as well. Cover the onions and cucumbers in the salt and cover in ice (and water to keep them covered). Put the whole bowl in the fridge and let it cool for 3 hours. After 3 hours, drain the whole bowl of the mix really well. Put the rest of the ingredients in a big pot on the stove with medium heat and heat it up, but do not boil. Throw the cucumbers/onions in with it and heat them all up. Don't worry, they'll shrink down as they heat up. I was worried I didn't have enough liquid...but you will. If you're going to can your pickles, make sure you set your hot water bath pot on to boil, boil a small pot of water on to boil for your lids (just boil the water and turn the heat off and put the lids in). You also need to sterilize your jars. If you have a dishwasher this is easy, just wash them and keep them in the hot washer until you need them. If you don't, wash by hand in hot soapy water and then put them in the oven for 15 minutes set on 225 and they'll be sterile and hot and ready to use! Put your pickle mix in the jars, clean the rims of the jars and put the lids on the jars and tighten your rings. Process in a hot water bath for 10 minutes starting to time them once the water comes to a boil again. Let it sit for 24 hours without moving it after it's done in the canner. Enjoy!