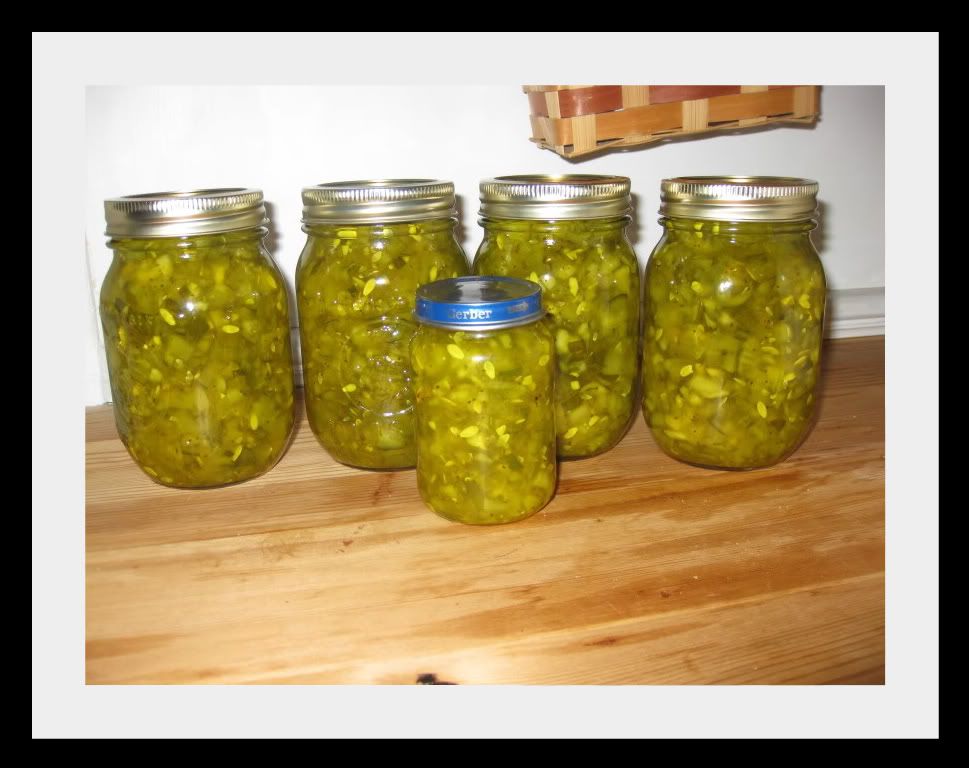 With my garden coming into full production I've been VERY busy canning for the first time! I hope you all forgive the lack of freebie posts! I definitely see canning and other food preservation as thrifty, especially if you grow your own vegetables. Here's a very simple sweet pickle relish recipe that I made just yesterday! You can even can this yourself without any super fancy equipment. This recipe is care of a friend on an online forum.
*Yes. In the picture above I have a small babyfood container full of the relish. I gave this away as a "sample". It was not canned so it had to go straight in the fridge and eaten quickly. One must only can with Mason jars.
Easy Sweet Pickle Relish
8 cups of diced (as small as you can) pickle cucumbers (I didn't peel or de-seed)
1 cup of grated onion
3/4 cup of Apple Cider Vinegar
3/4 cup water
3 cups of white sugar
1 tsp celery seed
1 tsp celery salt (I just used 1/2 teaspoon of celery seed and 1/2 teaspoon of salt because I didn't have any celery salt)
1 tsp turmeric
Mix the cucumbers and onion together and let it sit for about 2 hours. Drain it really well (there will be a lot of water). In a large pot, combine everything and boil for about 20 minutes. Then I followed the directions in the Ball Blue Book for Sweet Pickle Relish (leave 1/4-inch headspace. Process in a boiling-water canner for 10 minutes).