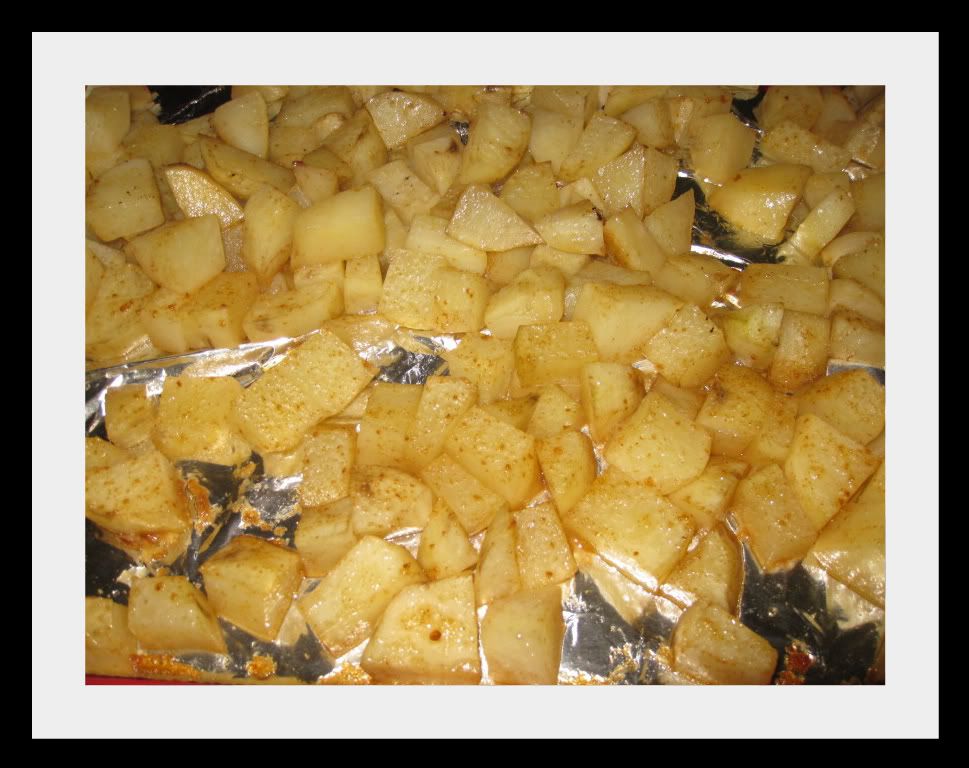 Potatoes can be a tricky thing to freeze ahead--but not if they're cooked before you freeze them. This is my "go-to" recipe for extra potatoes. Sometimes I dice them a little smaller and when I take them out of the freezer I fry them up like hash browns. Other times I dice them a little larger (about 1/2 inch) and throw them in soups and take them out and mash them for mashed potatoes. This is a really great technique especially when you can catch potatoes for $1 for 5 lbs or more. Always keep potatoes in a dark, dry place and never keep them near onions.
1) Wash your potatoes in cool water and remove any sprouts.
2) Preheat your oven to 450.
3) Start to peel and dice your potatoes. Throw them in a bowl of cool water until you're done so they don't brown on you.
4) Drain the potatoes and let them dry for a while. You can use paper towels if you like.
5) Put your baking sheet in the oven and let it preheat. Somehow this seems to help the potatoes from sticking.
6) Toss the potatoes in oil and add your spices. I tend to just use a little Seasoned Salt.
7) Take the baking sheet out of the oven. This is when I add a layer of aluminum foil and spray it with cooking oil using my
Misto Gourmet Brushed Aluminum Olive Oil Sprayer
. I then put it BACK in the oven for just a few minutes to get the oil nice and hot.
8) After a few minutes (I usually take that time to clean up a bit) take the baking sheet out of the oven and dump your diced potatoes on it.
9) Cook the potatoes for about 20 minutes in the oven. The idea is just to kill any enzymes and stop the "ripening" process. They won't crisp up. You just want them cooked.
10) Once the potatoes are done let them come to room temperature.
11) Put them in the freezer. You can either just do it the lazy way and put the whole cooled baking sheet in the freezer or you can dump it all in a bowl and freeze it that way. Just make sure if you use the bowl technique to stir it a few times while it's freezing or you'll have to chip off bits of potato to eat.
12) After the potatoes are frozen put the lot into a freezer bag that's labeled well.
TO REHEAT:
- Either take out a family-sized portion and let it defrost in the fridge or use your microwave defrost feature then pitch it in skillet with oil in it and fry it all up. YUM!
Enjoy!