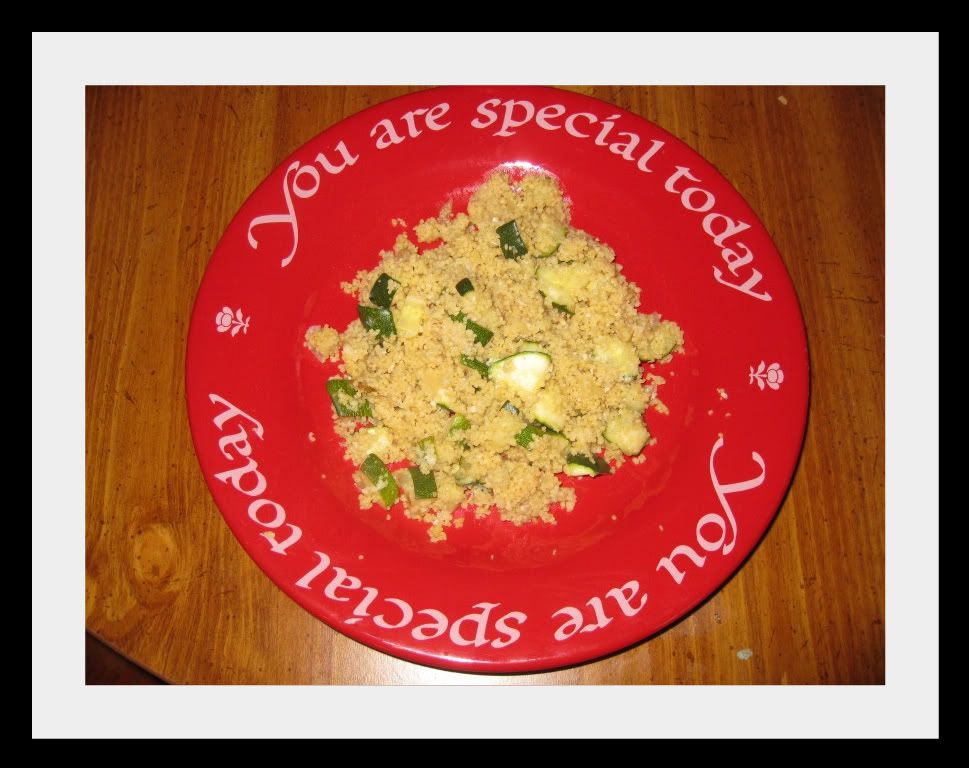 Have you ever tried couscous? I had never had it until today! We happened to be at a store (Sharp Shopper, for locals) that sells it in bulk so I picked up a pound of whole wheat couscous for around $1.50. I knew it was kind of a middle-eastern "staple" food, like rice or pasta. Couscous is actually a kind of pasta, technically speaking but it looks a lot like rice. For my friends who avoid gluten, they also have gluten-free couscous readily available. It absorbs whatever flavors you cook with very well. We're also members of a fruit and veggie co-op and I was able to pick up a few zucchinis this last week. I love zucchinis and I knew that if I didn't get around to cooking them I could always shred them for zucchini bread later. I almost always use
allrecipes.com
to help me figure out what to do with the ingredients I have on hand. They have a handy little "ingredients" feature that helps you sort out the recipes by what you have in your pantry. Today the quest was to use zucchini and couscous. This recipe could be useful later on in the summer when zucchinis are in overabundance. This would make an easy side dish, or you can add more veggies and make it a hearty meal.
Zucchini and Couscous
- About a pound an a half of zucchini, diced. (I used two BIG ones)
- Half an onion, diced.
- About a tablespoon (or less) or diced garlic. I keep jarred garlic in my fridge. We like garlic.
- a little olive oil or cooking spray
- 1 cup of chicken or beef broth (I just used boullion cubes). You could just use water.
- 1/2 teaspoon of ground cumin
- 2/3 cup of whole wheat couscous
- Parmesan cheese for sprinkling on top
Add the oil into a skillet (I used a pot because I doubled the recipe) and saute the onions, garlic and zucchini for about 5 minutes or until slightly tender. Add the broth and cumin and bring it to a boil. Add the couscous, cover and remove from heat. Wait 5 minutes and fluff the couscous and cover for another 5 minutes and there you have it! I sprinkled it with Parmesan cheese just for a little kick. I doubled the recipe VERY easily and it was a tasty main dish. Cheap (especially when your friends give you all of their leftover zucchini in the summertime!) and FAST food!
Anyone else have any tasty and thrifty couscous recipes? Please do share! You can post it here or email me at TheScreamingPenny (@) hotmail.com.
-