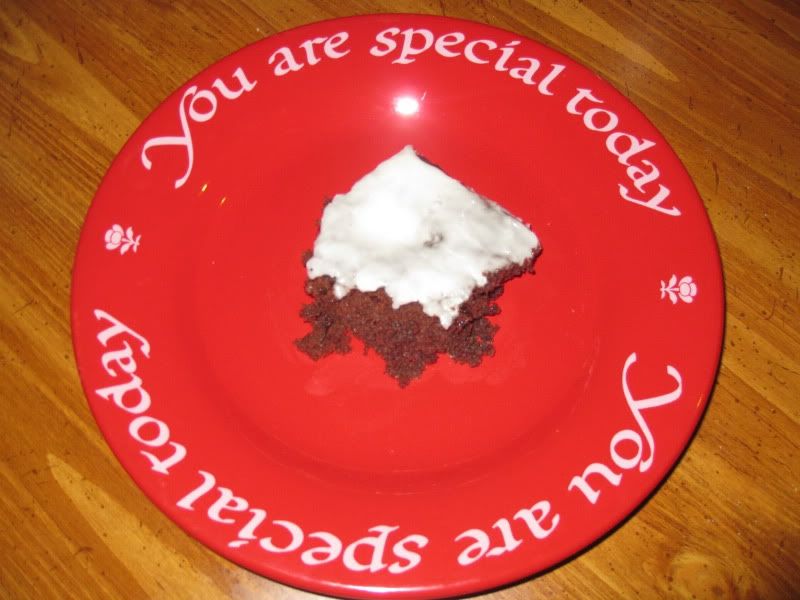 This has been a rough day around our house. What's the cure for a rough day: chocolate cake! However, most cake involves a lot of ingredients. So, today is the day for Wacky cake! Why is it called "Wacky" cake? It's also called "crazy" cake or "Depression" cake. It's "wacky" because you can prepare the entire thing in the baking dish rather than in a mixing bowl. Wacky, eh? It's also called "Depression" cake because this recipe has been around since the Depression and became popular because you do not need eggs, milk or butter to prepare it. It's Vegan, allergy-friendly (you can replace regular flour with allergy-friendly alternatives) and DELICIOUS! You cannot tell it wasn't made with rich butter or milk or eggs.
Wacky Cake
1 1/2 cups unbleached all-purpose flour
1 cup sugar
3 tablespoons unsweetened cocoa
1 teaspoon baking soda
1/2 teaspoon salt
1 teaspoon vanilla
1 teaspoon vinegar
5 tablespoons vegetable oil
1 cup cold water
Preheat your oven to 350. Get out your 9x13 cassarole dish and throw all of the dry ingredients in. Mix them up well. Make 3 wells with your finger in the dry ingredients. Put the vanilla in one well, veg. oil in another well and white vinegar in the last well. Mix as well as you can and then add the cup of water. It should look like regular ol' cake mix now. Bake for 20-30 minutes or until a toothpick comes out clean from the cake. This isn't a very, very sweet recipe...so I went for the gold with a super sugary glaze:
Glaze of Doom
2 cups powdered' sugar
2 tablespoons plus 1 teaspoon water
1/2 teaspoon vanilla extract
In a small bowl, combine the ingredients. It will be THICK. Use a butter knife or spatula and spread on the Wacky cake. Let it "dry" for about 20 minutes or so so it makes a nice glaze. Delish!