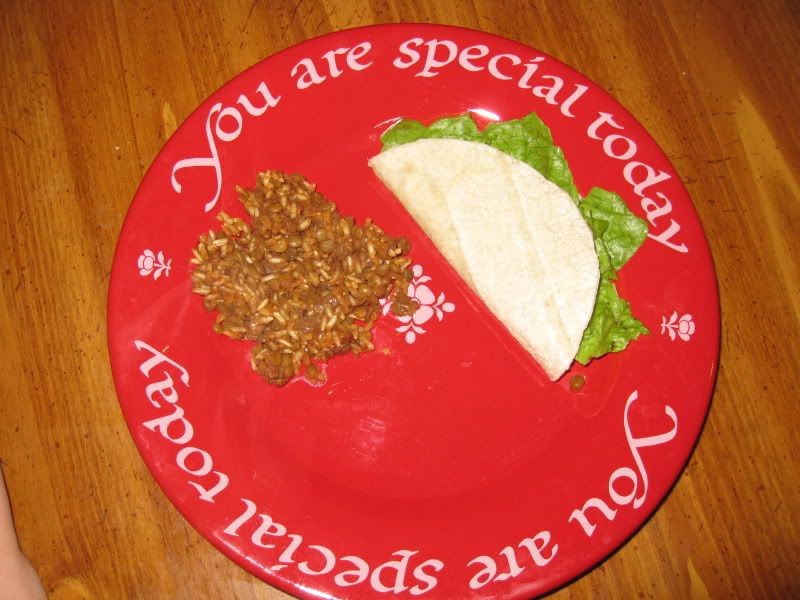 I cannot believe it's taken me this long to share this recipe! Taco-style brown rice and lentils is a staple around our home. Brown rice and lentils together make a perfect protein that is low in fat and cholesterol but high in nutrition. This original recipe is from
Hillbillyhousewife.com.
Taco-style Brown Rice and Lentils
3/4 cup dry lentils
3/4 cup brown rice
4 cups tap water
4 beef bouillon cubes
2 teaspoons chili powder
1/2 teaspoon cumin
1 teaspoon onion powder
1/4 teaspoon garlic powder
In a large pot, combine everything (now THAT's cooking). Bring the entire thing to a boil and then cover and reduce the heat to a simmer. Cook for about 45 minutes, or until the water is absorbed. Then you can use the mix to add into tortillas instead of beef or chicken, or it's really good with just cheese on top with a side salad. Basically you can use the brown rice and lentils to replace beef in any Mexican dish.
Super short cut: If you're short on time, you can always just use a packet of Taco Seasoning (your favorite brand) instead of all of the seasoning. Just keep the measurements the same and it works really well too.