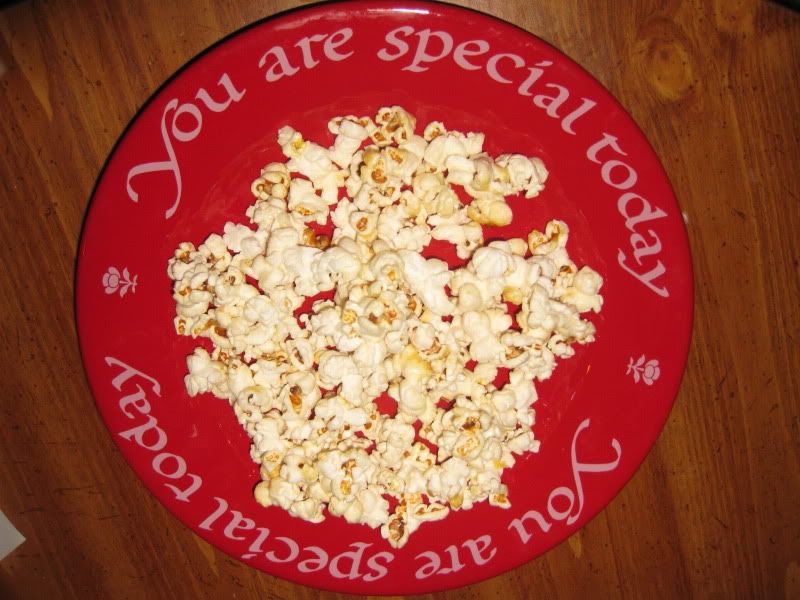 We've made it back to our home in Virginia after two wonderful weeks with my parents. We had a great time with friends and family but returning home I found the cupboards are bare! I need to do some serious food shopping soon! However, I was still able to pull out an oldie-but-goodie dessert to lift spirits around here a little: Kettle corn! Kettle corn is so delicious when it's still warm and so very cheap to make! Here is the recipe that I use:
Manda's Homemade Kettle Corn
- one large pot with a lid (I'm talking dutch oven size)
- 2 potholders
- Large serving bowl
- big spoon
-1/2 cup of popcorn kernels
- 1/4 vegetable oil
- 3 to 4 tablespoons of white sugar
- salt to taste
First add the oil to your pot and turn the burner on medium heat. Let it get good and hot (shouldn't take long!). Add the kernels to the oil and sprinkle sugar over the kernels. Try not to just dump the sugar all in one spot or you may have a hard time mixing it all up. Put the lid on right away. Using your potholders, lift the pot so it's about a half inch off of the burner and you want to shake it all around. The idea is for the oil and sugar to coat the kernels and your popped corn won't burn if you keep it moving. When the popping stops, dump about half of the popcorn into your serving bowl and shake some salt over it. Add the second half and add more popcorn. The sugar will be VERY HOT so use caution. Try to stir it a bit more, salting still. I normally let it sit for just about 3-4 minutes before I can't take it anymore and have to try some. So tasty still warm!
If you try this recipe, please let me know how you like it! I'd love to hear more from my readers! Enjoy!