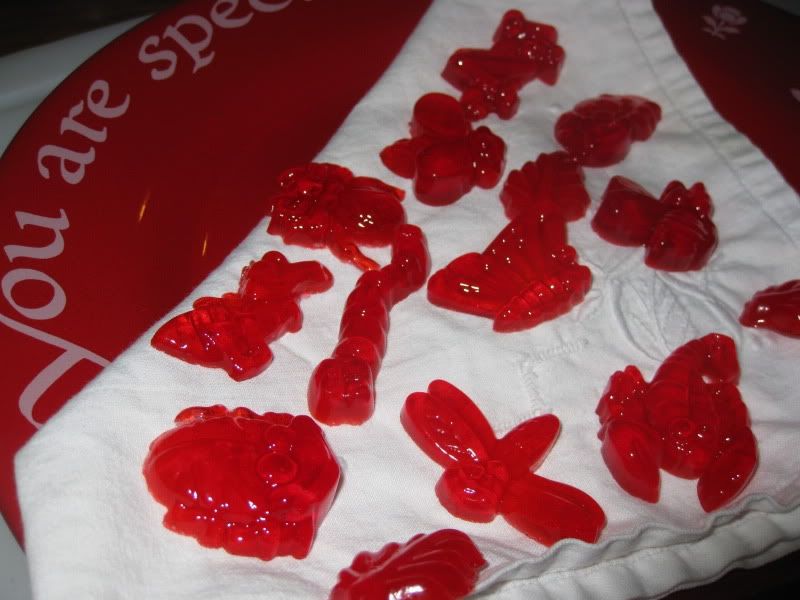 This is, by far, one of the funnest things I've made out of necessity. You know how the saying goes "Necessity is the mother of invention". My oldest child just discovered gummy bears not too long ago and will do ANYTHING for one. We're usually pretty good about making sure the gummy stash is filled but I forgot today at the store. What is a penny-pinching mother to do? That's right: we made our OWN gummies! After a few searches on
Swagbucks
I found a few recipes and went for it. Thankfully I had some Knox unflavored gelitan in my pantry (leftover from making homemade marshmellows at Christmas). I also had some candy molds that I had purchased at a yard sale years ago now that sure did come in handy! Here's the recipe I used:
- 1/3 c. water
- 1 3 oz. package of sugar-free gelatin (any flavor...and it can be the normal sugar-y kind)
- 2 or 3 packages of Knox unflavored gelatin.
In a small saucepan, combine all of the ingredients and let them sit there for about 10 minutes (or longer...apparently it won't hurt anything. Ask me how I know.). After they sit, turn on your burner to low and stir until all of the gelatin is dissolved. Let it cool for about a minute (not too long) and pour the mixture into something that's easy to pour from. I happened to have an old mustard bottle that the kids had been playing with so I cleaned that out well and poured the HOT mixture (BE CAREFUL) into it. You can also use a little cream pitcher or measuring cup. Then just pour the mixture carefully into the candy molds. You can use the bottom of a muffin tin, if you don't have any molds. No oil is needed! Just use what you have around the house and get creative! The trays went prompty into the fridge for about 10 minutes and then they were ready to go! Go ahead and pull them out of the mold, they're tough and chewy and won't rip like Jello Gigglers will. My son absolutely loves these! And my husband was so impressed he did the clean up FOR me!