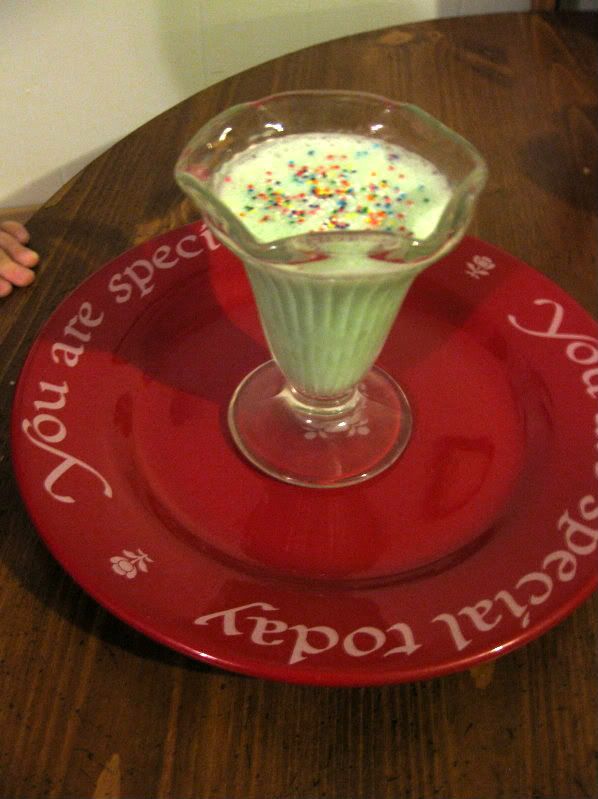 (Please forgive my 3 year old's hand... he was DYING to have his green milkshake!)
Happy St. Patrick's Day everyone! To celebrate I'm sharing one of my all-time favorite recipes: "magic milkshakes". This recipe was originally found on
Hillbillyhousewife.com
(I LOVE this site). I made it a little more festive by turning it green with food coloring. You could easily add some mint extract and make a grasshopper shake though! We follow this recipe:
1-1/2 to 2 cups ice water
1-1/2 cups nonfat dry milk powder
1/2 cup sugar
1 TABLESPOON of vanilla (we always use the cheapo imitation stuff)
1 to 1-1/2 trays of ice cubes, as much as you can spare
2 tablespoons corn oil plus a 5-second squirt of non-stick spray for emulsification purposes
You can also add an egg for a french vanilla flavor or add 1/4 c. unsweetened cocoa and use 2/3 c. sugar (instead of 1/2 c.). You can add a banana to the chocolate milkshake or alter it any way you like!
Place all of the ingredients into the blender, including the oil and the non-stick spray. Use less water for thicker milk shakes and more water for shakes that are easy on your blender motor. The blender should be about 3/4's full. Place the lid on. Process for a full 2 minutes. Pour into cups and serve. Makes 4 - 12oz servings.
I rarely keep ice cream in the house for milkshakes so this is a great recipe to have. Dried nonfat milk is a wonderful pantry staple to have, even if it's just for "magic" milkshakes!