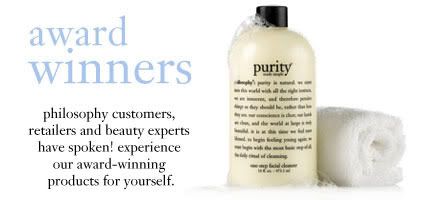 I'll own it. I LOVE Philosophy products. LOVE them. I can't afford them.. but love them all the same.
Today (Wednesday) is free shipping day with no minimum when you enter the code:
augship4free
(valid 8/19-8/20 AND when you make an order you get a free "sample" size (it's 4 oz.. my last bottle has lasted well over 3 months) of Purity Made Simple One Step Facial Cleanser. If you've never tried this face wash.. it's WONDERFUL! And free! Add the code
8hello09
(valid till 9/15 or out of stock) at checkout as well! Yes. Do both codes, one after the other.
I always buy a new flavor of their Flavored Lip Shines. I recommend the Vanilla Cake Frosting (have mercy!). Today I ordered the Ooey Gooey Smores flavor! And not only do they taste great, they have an awesome shine and leave your lips so soft. For realz. I don't normally endorse products.. but I've used a lot of Philosophy.. and these are great. For $8 (for the lip shine) you can get free shipping AND the Purity Made Simple face wash (a $10 value). You also get to order 2 small samples when you check out as well.
Treat YOURSELF (or that special girl.. trust me.. she'll think you're awesome!) today! OR think ahead for Christmas.